Pumpkins are Food Too
October 29, 2010
Did you grow any pumpkins this year? Got one in your Good Food Box or from your CSA farmer?
Pumpkins are a squash of the Cucurbitaceae family. They're easy to grow, inexpensive, local and abundant at this time of year. Most people carve them up and to make lanterns. They're also a nutritious food packed with beta-carotene (which gives them their orange color), that your body uses to make vitamin A. (Thanks body.)
Much more at Wikipedia.
Here are a few recipes to get that gourd in your gullet.
Pumpkin Bread:
http://www.thefreshloaf.com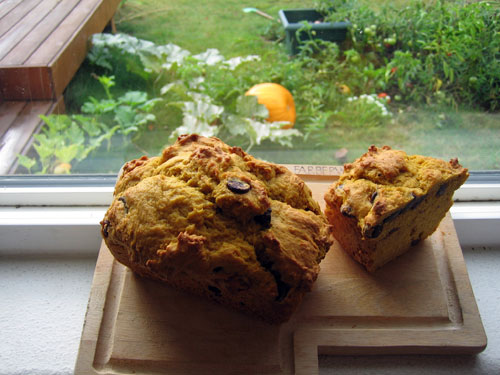 (Thanks to Marlo from Head & Hands for this one.)
Pumpkin Soup:
http://query.nytimes.com

Sweet & Sour Grilled Pumpkin… ooooh:
http://pinchmysalt.com
And of course, Pumpkin Pie. Yum.
http://www.inmamaskitchen.com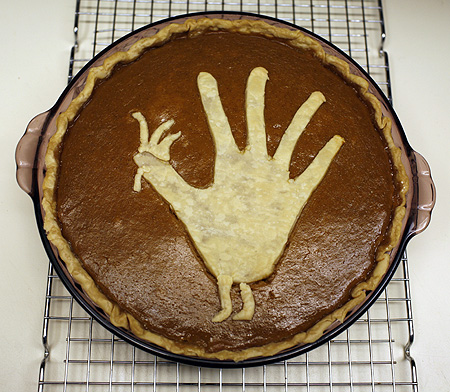 Let us know if you try any of them by making a comment below.
And don't you dare throw those pumpkin seeds away. They're a a superfood. Yup. Packed with a plethora of minerals, you can toast them up with a bit of oil and salt or go all fancy and make a pesto. Here's what About.com says about them:
Pumpkin seeds are another American "super food" that the Native tribes prized for its culinary and medicinal value. They probably didn't make pumpkin seed pesto recipes out of them, which is the recipe I've linked for you here.

High in fiber and protein, these seeds are also a rich source of minerals including magnesium, manganese, iron, and zinc. Pumpkin seeds are believed to be beneficial for things like prostrate health, bones strength, and arthritis. Pumpkin seeds also contain compounds called phytosterols, which are believed to reduce levels of harmful cholesterol and also improve the body's immune system.

Pumpkin seeds can now be readily found at health food stores, or higher-end grocery chains. They are sold, raw, roasted, shelled, and unshelled. Try them in this pumpkin seed pesto recipe, which uses the toasted seeds. It's a delicious, and easy way use this nutritious food.
Happy Samhain everyone!
Be the first to like this post.